A code of ethics and regulations have been developed to preserve the integrity of the environment. Thus, the sustainability of the sites will be ensured, making your stay in the Kiamika Regional Park memorable!
You are responsible for your safety

Camping

Temporary primitive camping (tent: max 5 nights, RV: 10 nights) is permitted where signs suggest it. Elsewhere, camping of any kind is prohibited. Respect the capacity of the sites indicated on the map.
Vehicles in the coastline

Do not drive on the shoreline. All motorized vehicles (motorcycles, cars, trucks, trailers, quads) are prohibited in the waterways, including the beaches of the reservoir.
Waste management

Bring back all your garbage, do not burn it and dispose of it properly. Clean up your site before you leave so that it is cleaner than when you arrived. Make sure you don't forget anything.
Campfire

Use only existing fire rings, do not move them. Respect the fire ban notices. Keep an eye on your fire and do not litter. Put out your fire properly by drowning it, never use sand.
Dogs, horses and other animals

Keep your pets on a leash. Pick up the waste generated by the presence of your animal (ex: excrements).
Daily rest stops

Some sites are developed for daily use, so camping is prohibited.
Parking

Parking of a vehicle is permitted only where signs indicate.
Permanent camping

Permanent camping is prohibited in Kiamika Regional Park. Other locations are appropriate for this type of camping (e.g. outfitters or seasonal sites).
Violence and intimidation: zero tolerance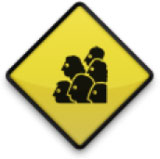 Be courteous and respectful of other users and park staff. Violence in any form will not be tolerated, under penalty of expulsion.
You are responsible for your safety

Use the dry toilet on your site. If there is no dry toilet, dig a hole at least 30 meters from the water and close it after use.
Soap, toothpaste and dish soap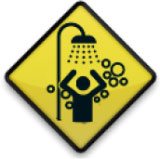 Never wash yourself, brush your teeth or wash your dishes directly in the water. Respect the minimum distance of 30 meters from the water and use biodegradable soap.
Park Patrollers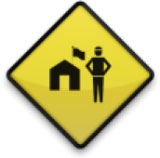 Identify yourself when requested by a patrol officer. Do not hesitate to call on staff for any emergency or situation of concern.
Hunting and fishing

Hunt and fish within the permitted areas, respecting the quotas and periods prescribed by law. Respect the habitat of species that contribute to the park's biodiversity.
Sanctuary

Fishing is prohibited in the 3 sanctuaries of Kiamika Regional Park.
Wood cutting

It is forbidden to cut down a tree or to mutilate it (e.g.: remove the bark, cut branches) on the park territory. Get a bag of wood ($) at the various Kiamika Regional Park reception points.
Boat wash
Clean your boat (Chute-St-Philippe rest area, 565 chemin des Voyageurs or in Sainte-Véronique, at the Lac Tibériade boat launch) before launching it at Kiamika Regional Park.
Glass container

Avoid bringing glass containers. Minimize the traces and impacts of your passage.
Excessive noise

Enjoy the quiet of nature and minimize noise at all times. Curfew from 11 p.m. to 6 a.m.
Wild animals

Do not feed, touch or disturb wildlife. Do not leave food or garbage unattended.
Some basic safety rules
(camping and navigation)

You are responsible for your own safety.
Notify a relative/friend of your departure and return dates
Plan your trip properly.
Never go alone
Master basic paddling techniques or have a Pleasure Craft Operator Card (motorized watercraft).
Know and respect your paddling limits.
Bring a first aid kit.
In case of emergency, call 819 278 5402 or 911
Have with you the equipment required by Transport Canada regulations.
Wear your personal flotation device (PFD).
In case of hazardous weather conditions (high winds, heavy precipitation, storms). Do not go out on the water. If you are on the water, head to shore for safety.
Stay in groups (when applicable) and be aware of other water users (canoe/kayak, motorized boats, sailboats, personal watercraft, etc).
Never cook in your tent and never keep food, toothpaste or gum.
Hang food, garbage, and any odorous products 3 meters high and 2 meters from the trunk of a tree or place them in clean, watertight barrels away from your tent.
Filter, treat or boil lake water for 1 to 10 minutes on high before drinking.
This web page is dedicated to the education and information of visitors. It is an incomplete summary of By-law 494 – Traffic, cleanliness, security, peace and order in the Kiamika Reservoir Regional Park (subject to change), the application of which is the responsibility of the MRC d'Antoine-Labelle and the Park's duly sworn patrol officers. Minimum fine: $200. Update : April 2021
In order to preserve the Kiamika reservoir the washing of all types of boats is MANDATORY !
Rivière-Rouge
Launching of Lake Tibériade
Automatic Washing station.

Cost is $40. Free for residents (you can get your card at City Hall).

Open 24 hours a day

Distribution of the washing station coupon
Chute-Saint-Philippe
Roadside stop - 565 des Voyageurs Road
Self-service

Cost: Free

Open 24 hours a day

Issue a code as proof of washing
For more information on the regulations concerning boat washing, we invite you to consult the official document of the City of Red River at the following link:
On its territory, the Kiamika Regional Park respects the restrictions of the SOPFEU.