Available from the Barrage reception area, the Kilby reception and the Montée-Miron reception
Sail on the waters of the Kiamika Regional Park aboard a canoe, discover its islands and its fine sandy beaches. Canoeing is an ideal activity for families! *Canoe rental at the Secteur du Barrage is done directly on site.
The practice of our favorite leisure activity has necessarily consequences on the various riparian ecosystems. As responsible paddlers, we must be aware of this and act in such a way as to minimize the impact of our passage on the environment. The code of ethics developed by the FQCK, similar to the principles of Leave No Trace Canada, describes the steps to follow in order to be in total harmony with nature. By referring to it, you will be a committed and active user!
Rental
Two-person canoes are available in the Kilby Sector, Montée-Miron Sector and the Dam Sector.
Four-person canoes are available in the Kilby Sector.
Canoe rentals are available on a daily basis for canoe-camping trips. For example, if you arrive on Friday and leave on Sunday, you will need to reserve a canoe for three days.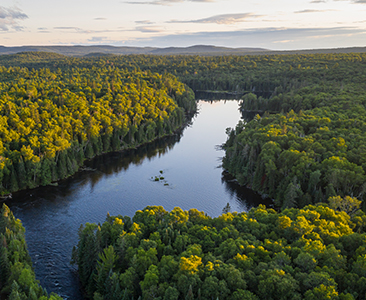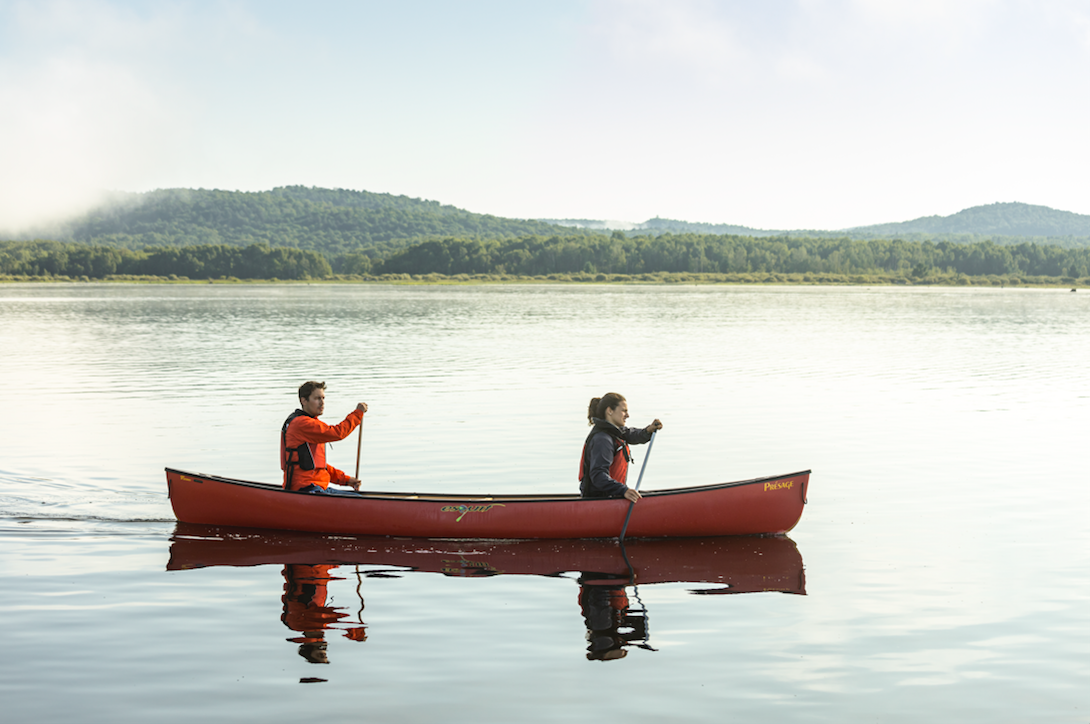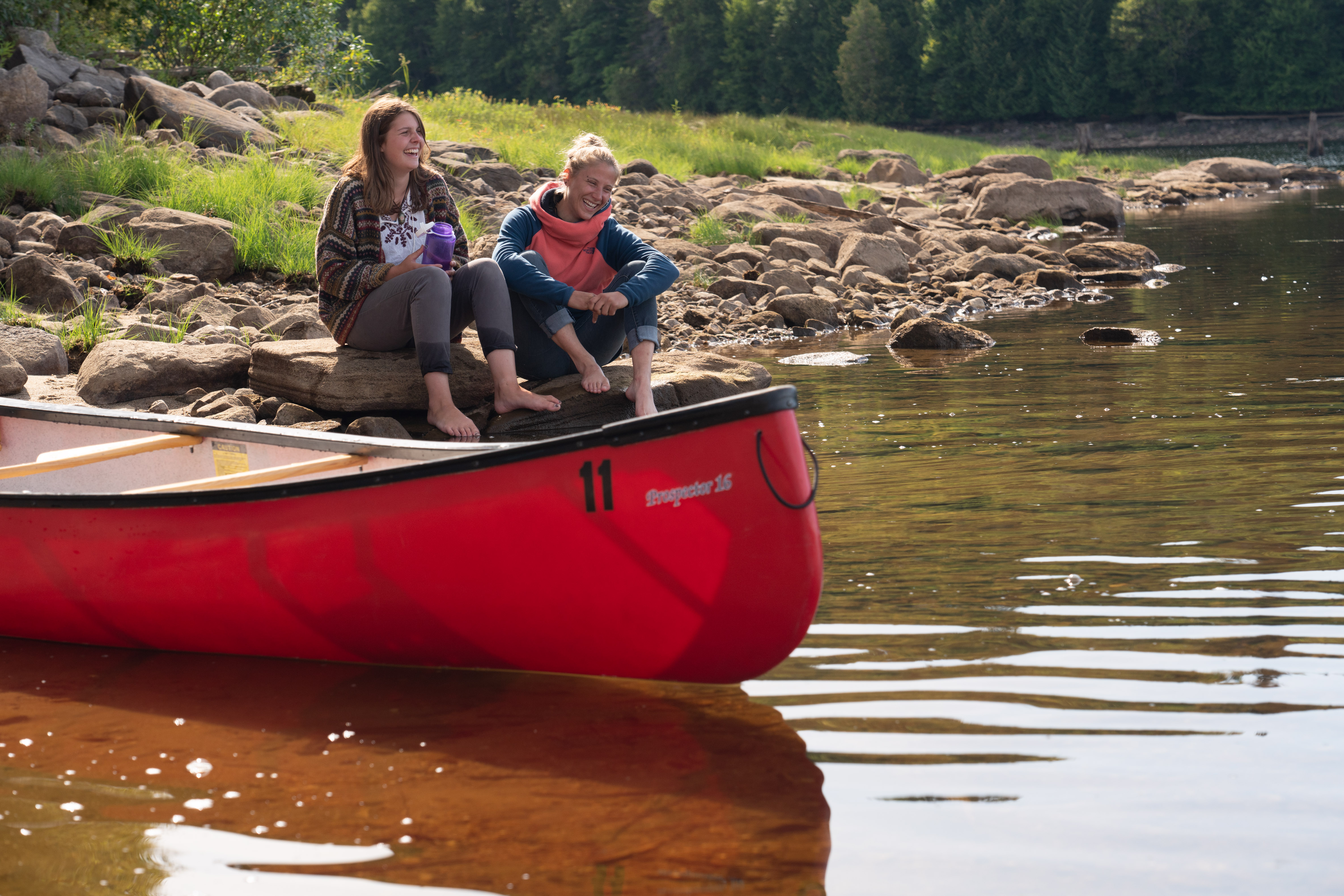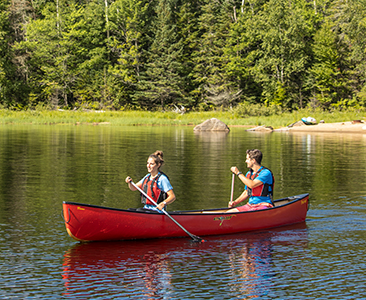 EQUIPMENT FOR THE ACTIVITY
Boat (canoe or kayak)
PFD (personal flotation device) of the appropriate size
Paddles and bailer
Floating rope or rope bag (15 meters)
Whistle without ball
Guide card in waterproof bag (e.g. Ziploc)
Waterproof bag
Flashlight or headlamp and batteries
Snacks
Water bottle or thermos (drinking water)
Towel
CLOTHING (warm weather)
Laced shoes (waterproof with non-slip soles)
Breathable T-shirt
Swimsuit or shorts
Shirt or long-sleeved shirt
Hat or cap with ties
Pants (polyester or nylon)
CLOTHING (Cool and wet weather)
Insulated coat
Lace-up shoes (waterproof with non-slip soles)
Pants and rain coat
Gloves
Wool socks
Wool or fleece sweater
Wool or fleece hat
SAFETY EQUIPMENT
Sunglasses with safety cord
Sunscreen cream
Mosquito repellent and/or net
First aid kit
Compass
Duct tape
Emergency knife
Personal medication
Boat rental
1) Prepare your outings in advance
Bring with you the maps you need to plan your route. Check the condition of your equipment before you leave. Your boat and PFD should be brightly colored for your safety. Find out how many sites are available at backcountry campsites and reduce your group size if necessary.
Plan your meals to minimize packaging and waste, saving time, weight and space. Provide a stove for cooking meals. Bring drinking water or find out if fresh water is available and bring what you need to treat it.
2) Use durable surfaces
Walk on durable surfaces (dry grass, gravel, rocky slabs). Arrive early to set up camp with minimal impact on the environment and use existing campsites. Leave the camp site in its natural state when you leave. Limit your stops to two nights maximum.
3) Manage your waste properly
Bring back with you everything you have brought. Provide bags for your garbage. Use the toilets available (dry or other). If there are no toilets, bring your papers and deposit human waste in 15-20 cm deep holes dug in the ground more than 70 m from a waterway. Make a slightly shallower hole for wastewater (e.g., dishwashing). Before leaving, make a final inspection to ensure that the site is in compliance.
4) Avoid campfires
Do not build campfires at stopover sites unless there are special facilities and wood available for this purpose.
5) Touch only with your eyes
Take pictures rather than touching vegetation or any historical or cultural objects.
6) Respect wildlife and fragile environments
Observe wildlife from a distance. Move away if you detect signs of nervousness in the animals you observe. Respect the stopping sites identified by the FQCK and the Routes Bleues to avoid disturbing wildlife and fragile environments. Keep your pets under control or leave them at home.
7) Respect shoreline property owners and other users
Set an example by respecting the uses negotiated with shoreline property owners. Be courteous and discreet so as not to disturb other users and property owners. Offer your help to anyone who seems to be in trouble.
Source: Quebec Federation of Canoe Kayak